Welcome to Sonic: Lock & Load!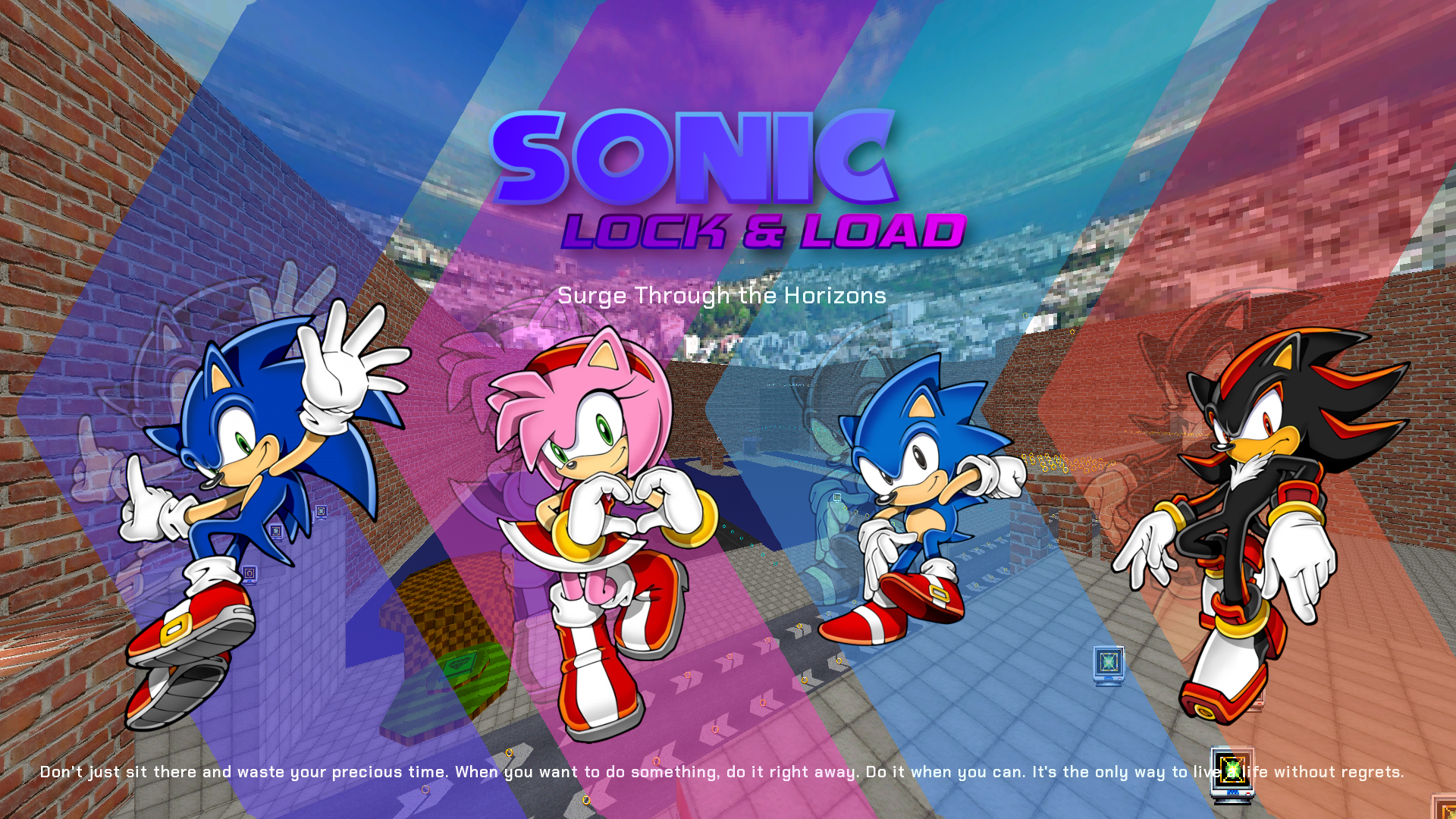 Download Sonic: Lock & Load v1.4 "Horizons"
DOOM II IWAD required. You can buy DOOM II on Steam or GOG or use Freedoom: Phase 2.
Sonic: Lock & Load is a hyper-fast character-action first-person shooter based on the Sonic the Hedgehog series of games and built on GZDoom.
It draws inspiration from Sonic games, as well as titles like Sonic Robo Blast 2, ULTRAKILL and Devil May Cry. It also features elements from other GZDoom mods, retro FPS games and other character-action games.
Sonic: Lock & Load is not fully completed yet, and development is progressing slowly. However, it aims to provide an extremely fun and thrilling experience reminiscent of old-school shooters, as well as their modern-day revivals.
The latest stable version is v1.4 "Horizons".
There's also a side project available, Sonic the Hedgehog in DOOM: Legacy Edition.
Sonic: Lock & Load is a game by Arsalan "Velocity" Kazmi, free software under the GNU General Public License v3.
You can find Sonic: Lock & Load on the ZDoom Forums, Sonic Fan Games HQ, Mod DB, Doomworld and itch.io.
Sonic: Lock & Load turns 4 in February 2024! Read about the game's history up until v1.4 "Horizons".
Releases
Surge Through the Horizons.
Sonic: Lock & Load v1.4 "Horizons" is a major update, bringing new levels, new techniques, refinements to the changes made in v1.3.3 and major changes to the gameplay and Sonic: Lock & Load's fundamentals.
This probably isn't an extensive list, since Horizons has been through so many changes that I've lost track of it all. Makes the jump from Dark (v0.9) to Chaos (v1.0) look like a joke and a half.
Additionally, I had some troubles with SFGHQ and SAGE 2022, resulting in me making a "Final Final Demo". You can read about the development history and struggles here.
Levels
Sunset Gardens, replacing v1.3's Green Hill
Marble Madness
Oceanic Fortress
Hire This Zone, a massive level inspired by Sonic Frontiers, featuring a Super Sonic boss fight. Only accessible by Sonic.
Cyber Space Arena, an endless survival mode that is not wave based, not even slightly. It's more "see how long you can last" and not "see how far you can get".
Gameplay
The Offhand command has been split into Offhand Attack and Offhand Ability. Offhand Attacks are. . .well, offhand attacks, and Offhand Abilities are usually movement options that don't deal damage.
Movement changes; pressing no movement keys mid-air will preserve your horizontal momentum, but pressing movement keys will still have an effect on mid-air movement.
When low on Rings (below 10) you'll start to hear a low health sound.
You'll also start hearing a low energy sound if you're about to lose your Super, Dark or Hyper Form due to having a low amount of Chaos Energy.
You'll now always run at a high speed, irregardless of the cl_run CVAR.
When double jumping, the second jump will now have less height.
Upon taking damage, your character will drop rings that can be picked back up, and will disappear after a short while.
Every character can now perform the Slam Attack by simply pressing Crouch, not just Sonic. You can also use it at any time, independent of your weapon.
When on the ground and moving, you're able to crouch slide by holding down Crouch. Crouch sliding will preserve more of your momentum than just moving, and can be used to gain and maintain high ground speeds.
Super and Dark forms have been slowed down, and Hyper forms have been made as fast as Super forms used to be.
New optional toggleable gameplay modifiers, that can add or change around game mechanics.

Give Energy on damage – Dealing damage to or killing monsters will net you some Chaos Energy, which is capped at either 300 or 500 Energy depending on if the monster was only damaged or was killed.
Enemies bleed rings – Upon taking damage, enemies will drop Rings that don't last very long, similar to the blood mechanic in ULTRAKILL.
Style System – Continuously attack enemies to rack up Style Points and get a high Style Rank! Taking damage or even just waiting around will make your Style Points decrease. Maintaining a Style Rank of at least B will generate Chaos Energy, so playing stylishly will ensure you'll basically never run out of ammo!
Spongy Enemies – Are you sick and tired of enemies dying too quickly? Enable this gameplay modifier, and all enemies will have their health multiplied, so you can style on them all you like!
One-Hit Mode – Think you're good at the game? Good enough to rush past everything in your way? Enable this gameplay modifier to have any damage dealt to you instantly kill you!

Difficulty levels have been overhauled completely.

Effortless (Skill 1) - Enemies move slowly and the spawn level is Normal.
Simplified (Skill 2) - Enemies move slowly and the spawn level is Hard, meaning there are more enemies around.
Standard (Skill 3, Default) - Enemies move faster than Skill 1/2 and the spawn level is Hard.
Insane (Skill 4) - Enemies move faster than Skill 1/2, spawn level is Hard and the player takes twice the usual damage.
Oh No (Skill 5) - Enemies move faster than Skill 1/2, spawn level is Nightmare and the player and enemies all die in one hit. Same as ever.
Characters
Sonic the Hedgehog
Sonic's Offhand Attack is now Homing Attack. The Homing Attack can be performed whenever Sonic's looking at an enemy and the Homing Reticle is displayed in the middle of the screen and will cause Sonic to teleport to the enemy and deliver a swift kick. If Sonic's too close to or too far from an enemy (the Homing Reticle doesn't appear) Sonic will just kick normally instead.
Sonic's Offhand Ability is the Quick Step, which is an unlimited dash ability that can be used to evade enemy attacks or get closer to an enemy. It can be cancelled into a jump or crouch slide for extra mobility.
Caliburn has been massively tweaked, and Sonic can now perform sword combos by repeatedly pressingFire.
Caliburn can now also parry close-up attacks if Sonic swings it right before he gets attacked.
Boost can no longer be held down if Sonic's using it mid-air, unless he's in his Super or Hyper Form.
Accelerated Pistol now uses a single-shot spammable burst fire.
Recoil Burst must now be charged for at least a little bit.
Wall Jump now works a lot more like ULTRAKILL's, where it's not nearly as overpowered and Sonic will no longer look behind him after performing the move.
Rapid Shotty has been replaced by the Kinetic Shotty, which has a primary fire that scales its amount of pellets with Sonic's velocity, and a secondary fire that's a momentum-inheriting grenade.
Shuriken Crossbow now has a better sound when the shuriken hits its target.
Eclipse Blaster Mk. V now has a cooldown period after firing for around three seconds - and Chaos Restoration will consume a lot more Chaos Energy.
Rocket Rioter's rockets can now be Homing Attacked to turn them into homing rockets with more damage.
Amy Rose
Amy's movement speed and jump height are now the same as everyone else's.
She also no longer takes increased damage from attacks.
Amy's Offhand Ability is the Slide Dash, which can slide over gaps and can be jumped out of, which grants Amy quite a lot of mobility.
Piko Piko Hammer now requires a bit of timing for the attack or Hammer Jump to connect, and Amy can now use the hammer to parry incoming attacks in exchange for Chaos Energy.
Piko Piko Hammer can no longer be used for gliding.
Added the Railshot Cannon, a railgun with some knockback, like Sonic's Recoil Burst.
Classic Sonic
Classic Sonic now has access to the Spin Attack, Double Spin Attack (Insta-Shield), and Drop Dash.
Spin Dash is now justFire – you don't need to crouch anymore.
Sonic Thok has been moved to Offhand Ability, and can now be activated with a double jump input, and Sonic can no longer aim it left, right or backwards.
Drift has been heavily nerfed, and is nowhere near as effective mid-air.
Classic Sonic can now regenerate up to 150 Rings on the spot, by crouching and holdingAlt-Fire. He takes extra damage while doing so, though.
Shadow the Hedgehog
Shadow has been made a lot more like Sonic – he can perform a lot of the moves that Sonic can now.
Chaos Spear can now be used at any time, as Shadow's Offhand Attack.
Chaos Snap has been moved to Offhand Ability.
Holding the Chaos Emerald will give Shadow a third Chaos Snap.
Shadow can now perform the Boost with the High Shovel, the same way Sonic can with Caliburn. It has a faster startup, uses less Chaos Energy, can be held in mid-air and will be affected by gravity.
Added the Sub-Machine Gun, an automatic pistol that serves as Shadow's starting weapon.
Miscellaneous
The title screen theme is now Un-Gravitify from Sonic Riders: Zero Gravity.
Secret bosses have been made much tougher, especially the Fricking Cyberdemon, which is a lot more aggressive, and is now fought across all of Station Square instead of a small enclosed arena.
Upon completing a level, your time and score are calculated, and you're given a rank based on how well you met the target time and score.
Title screen graphics now have a small delay before appearing, to fix problems with it on Linux.
Added Reserved Mode, which brings player movements speed down to a more reasonable level. Intended for use with usual DOOM levels, and map packs that weren't designed for Sonic: Lock & Load.
A Discord App ID has been added for Rich Presence, and can be used by setting the i_discordrpc CVAR to true.
DOOM 2's IWAD will now automatically be loaded if it's detected by GZDoom.
The "Hell on Earth" chapter (standard DOOM 2 levels) have been hidden from the episode selection menu. Which kind of defeats the purpose of Reserved Mode, but whatever. You can still access DOOM 2 maps with idclev or map.
Considerations
Following is a list of things I considered adding into Horizons but didn't because I either thought it was too soon and it would be too drastic of a change right now, or because I'm lazy and didn't want to yet.
A Soul Gauge, which would fill up upon dealing damage and empty over time or when taking damage. This only exists in Horizons as the optional Style System gameplay modifier. The Soul Gauge would have allowed your character to activate their Super, Dark or Hyper form once full.
A fourth level, which would have included much, MUCH more crazy things in it, like a time-limited escape sequence. This was held back because Horizons was taking too long already and I just wanted to get this damn update out. Plus, I have better ideas for a fourth level now . . .
Style switching, like in Devil May Cry. The idea being there would be a specialised Style Switch key, and pressing that would have your character switch their combat style. For example, Sonic would have had the evasion-oriented Speedster Style and the offence-oriented Black Knight Style. I would have loved to incorporate this addition in particular, but I didn't simply because, again, I just wanted to get Horizons out already.
These ideas will probably either be implemented in v1.4.1 or v1.5.
Sonic: Lock & Load v1.3.3 is a minor update, containing some changes to the game's fundamentals and balancing.
Increased Shuriken Crossbow damage output and end frames.
Both Eclipse Blasters' knockback has been significantly reduced.
Increased Piko Piko Hammer damage output.
Chaos Emeralds won't replace soulspheres or megaspheres, instead only replacing the BFG9000.
Chaos Energy will now rapidly decrease in Dark or Hyper form instead of deducting 2 at once. This is more of a visual change.
The amount of energy you get from capsules is now reduced if you're in Super, Dark or Hyper form.
Chaos Rings will now give you extra Chaos Energy if transformed (2 for Super, 4 for Hyper and Dark).
Fixed an issue where the Recoil Burst would still cost Chaos Energy when transformed.
Sonic: Lock & Load v1.3.2 is a semi-minor update.
Sonic can now wall jump.
The option for Slot 4 weapons to replace Slot 2 weapons has been removed.
Fixed an issue where completing Green Hill's boss was impossible.
Directional inputs for Sonic Thok and Chaos Snap now work with controllers.
Sonic: Lock & Load v1.3.1 is a minor update involving mostly bug fixes.
Skill 5 (Blue Streak/Thorned Rose/Fun is infinite/All Fail Shadow) no longer gives enemies double health.
Fixed an issue where finishing a level as Shadow would end before the victory jingle played.
Fixed an issue where Classic Sonic's mugshot wouldn't change when finishing a level.
Finally, a REAL update!
Sonic: Lock & Load v1.3 (which can be considered the real v1.1 but we won't get into that) adds an all-new Green Hill, a redesigned Station Square, new abilities and way more.
We're getting closer and closer to SRB3...
Well, what are you waiting for? Download it now and experience the next level! ... Whatever that means.
This is normally the part where the changelog would go, but it's massive, and I'm lazy, so... just go to the GitHub release page.
Like with v1.1, this is basically v1.0.2.
Homing Attack improvements.
Spin Dash improvements.
Removed the Light Speed Attack.
Pickups have been made fullbright.
Added a new entrance to the Side Levels.
Code cleanups and bug fixes.
This is basically v1.0.1. Man, I wish I knew about proper semantic versioning when I released this...
Added the Spin Dash for Classic Sonic.
Added persistent control hints in each characters' tutorials that make learning the controls easier.
It's been a long, rough road, but we're finally here.
The long-awaited first release for Sonic: Lock & Load, the Chaos Update, is finally out!
So without further ado... Welcome to the next level.
The Chaos Update is a turning point for Sonic: Lock & Load, becoming more than a simple DOOM mod some bored guy threw together after watching Peter Knetter videos.
Full changelog
Sonic: Lock & Load's Dark Update adds Shadow the Hedgehog! It's time to go and find that damn FOURTH Chaos Emerald!
Added Shadow the Hedgehog.
Added a taunt command which can be bound in the GZDoom settings.
Caliburn now has a rotating attack outside of Super Sonic.
New mugshot sprites for Amy.
Hammer Jump is now triggered by crouching and pressing primary fire.
Oh boy! The Rose Update! This is probably the greatest addition to the mod in ages.
This update marks the project's name change from 'Sonic the Hedgehog in DOOM' to 'Sonic: Lock & Load'.
This was done:
as both a reference to His World from Sonic '06
because I didn't want Sonic the Hedgehog in DOOM (or Sonic DOOM) to be confused with Sonic Robo Blast 2, which is what most people think of when they hear "Sonic DOOM" (which didn't work at all, even YouTube thinks S:L&L is SRB2)
Here's the changes:
Added Amy Rose.
Renamed Sonic's Eclipse Blaster to the "Eclipse Blaster Mk. V"
New mugshot sprites for Sonic.
Nerfed the Speedy Shotgun.
Removed the tutorial.
Sonic the Hedgehog in DOOM's Ascension Update grants Sonic a revamped Boost that lets him ascend! (hence the title)
Changed how the Boost works.
Removed the Drift.
Added an unarmed kick.
DOOM II text screens reflect Sonic's dialogue and mimic Sonic Adventure 2's recap screens.
Added the Eclipse Blaster.
Changed how the Speedy Shotgun works.
Drifting now recharges Chaos Energy.
Weapon pickup messages now reflect Sonic's reactions.
Added Caliburn.
Super Sonic now improves melee attacks.
Replaced megaarmor with Soul Rings.
Fixed small HUD.
Updated skill levels.
Added the Speedforce Pistol.
Changed the Speedy Shotgun's alt fire.
Replaced armour bonuses with Chaos Rings.
Added level time to the HUD.
Includes a new custom HUD, heavier focus on melee combat and a new tutorial.
This release has more DOOM II support over the previous release.
This is the first in-development release of Sonic the Hedgehog in DOOM.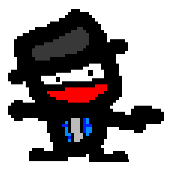 Wait, how did he get here?